Background:
The sweet cherry is a stone fruit that belongs to the genus Prunus, sweet cherry orchards are planted with nursery trees produced by "budding" a selected scion onto the desired rootstock.
There are 22 sweet cherry varieties in cherry national collection located in Badam Bagh , among those 6 varieties are currently recommended by ANNGO which are Burlat, Santina, Stella, Black star, Grace star, and Bing.
Cherries are a suitable crop in the cooler areas of Afghanistan, including Kabul, Paghman , Wardak, Panjshir and other higher altitude growing areas with good transport links to Kabul and other major consumption centers.
With a new range of exciting and heavy yielding varieties of sweet cherry, there is an unequalled opportunity for orchard growers to plant a new, profitable crop where the market is expanding every year. The demand for sweet cherries is increasing rapidly and there are not enough cherry orchards planted to meet demand. Cherry trees still have limited availability and are usually grown on Mahaleb rootstock. Mahaleb produces large trees with good productivity. another cherry rootstock is Gisela 5 rootstock which gives very dwarf and early fruiting trees.
ANHDO has trialed a range of varieties of export quality cherries that can be grown to give a two to three month harvest window when the different possible growing areas are taken into account.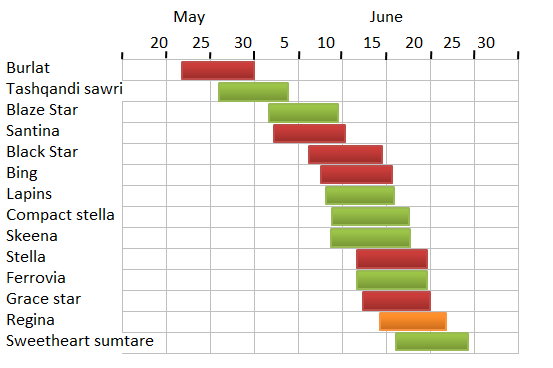 Red color: Recommended varieties
Green color: Alternative varieties
Orange color: Under evaluation varieties
As a part of ANHDO activities, a group sweet cherry growers have been established with the total number of 36 sweet cherry growers, in 4 different villages of Paghman district of Kabul province.
Afghanistan National Collection:
The Afghan National Collection has the purpose to maintain and evaluate the fruit varieties and rootstocks, consisting of registered Afghan and Imported varieties, and release mother plants for the private nursery industry. It has to be seen as a living body, where not suitable plants are removed and new representative accessions enter, following new findings, market trend and climate adaptation.
Perennial Horticulture Development Project (PHDP) had a germplasm registration survey accross Afghanistan in 2006 – 2008, based on the principle that the main and high market value genotypes, and that outstanding genotypes should be collected, resulted in the field registration and labelling of nearly950in-situ accessions.
Similarly, PHDP has registered and assigned clone numbers to fruit and nut varieties imported to Afghanistan in the last years. The registration of imported clones will eventually facilitate their inclusion in the National Collection and certification system. PHDP have registered a total of250different varieties, imported to Afghanistan.
Here is the list of cherry varieties available in National Collection of Herat and Kabul PHDCs (Perennial Horticulture Development Center) in the year of 2015.
Publications:
---
Documents:
---
Contact the Expert:
If you have any query or need information regarding Sweet Cherry in Afghanistan, you can contact us as bellow and we will connect you to our expert.
Email: info@afghanistanhorticulture.org
Phone: +93 (0) 20 2232022