Background:
The Peaches and Nectarines are stone fruits that belongs to the genus Prunus, Peaches and Nectarines are scarcely grown in most parts of Afghanistan, although they are relatively easy crops to grow. Superior varieties with good trans-portability are now available to the Afghan orchard. However, proper grading, handling and packing is needed.
The early season can start with newly introduced low chill varieties from the eastern provinces, right through to very late varieties from Kabul and surrounding areas. It is important to plant good market varieties and maintain control of the trees by rigorous pruning with an open vase system.
Thinning of fruit is essential for good sized fruit that will have a ready market. Fruit fly can be a big problem with peaches and nectarines, and control measures including the use of pheromones is essential.
Some recommended Peaches and Nectarines varieties are Suncrest, Maycrest, Flavorcrest, Caldesi, Big Top, Flavortop and Early Grand.
Peach trees bear fruit laterally on the wood that grew the previous year. The most important shoots in fruit production are the terminal and lateral shoots. The best and most fruits are produced in the upper third of the tree. Peach trees must be pruned every year.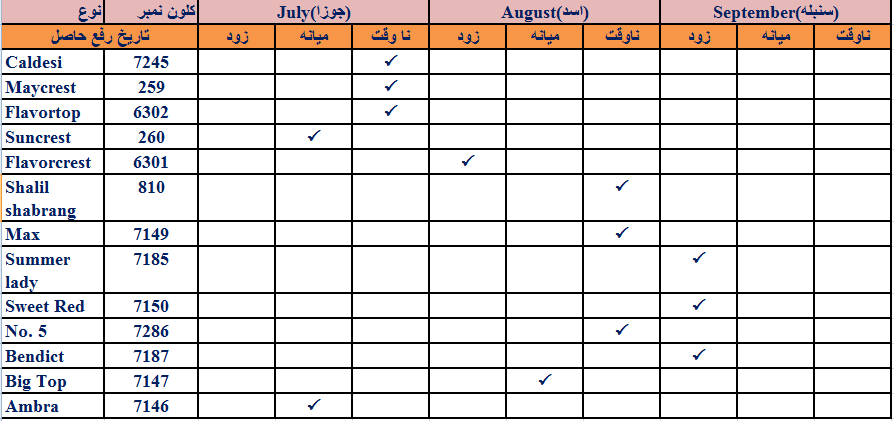 Afghanistan National Collection:
The Afghan National Collection has the purpose to maintain and evaluate the fruit varieties and rootstocks, consisting of registered Afghan and Imported varieties, and release mother plants for the private nursery industry. It has to be seen as a living body, where not suitable plants are removed and new representative accessions enter, following new findings, market trend and climate adaptation.
Perennial Horticulture Development Project (PHDP) had a germplasm registration survey accross Afghanistan in 2006 – 2008, based on the principle that the main and high market value genotypes, and that outstanding genotypes should be collected, resulted in the field registration and labelling of nearly950in-situ accessions.
Similarly, PHDP has registered and assigned clone numbers to fruit and nut varieties imported to Afghanistan in the last years. The registration of imported clones will eventually facilitate their inclusion in the National Collection and certification system. PHDP have registered a total of250different varieties, imported to Afghanistan.
Here is the list of peach varieties available in National Collection of Herat and Kandahar PHDCs (Perennial Horticulture Development Center) in the year of 2015.
Publications:
---
Documents:
External Links:
---
Contact the Expert:
If you have any query or need information regarding Peach and Nectarine in Afghanistan, you can contact us as bellow and we will connect you to our expert.
Email: info@afghanistanhorticulture.org
Phone: +93 (0) 20 2232022